In the Details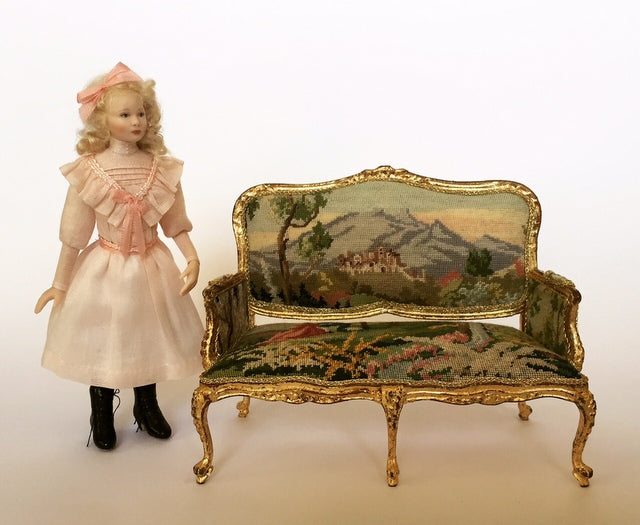 In any collection there are pieces that came into your life with a certain magical presence. Not only for the meaning of their beauty to you. They carry a story with them.
The French settee that I photographed here is exactly that piece to me. It was a dream come true!
Over the years, I admired many Petit Point settee's but unfortunately my budget did not reflect the stars I had in my eyes or shall I say lots of money in the bank!
One day I found this Bespaq settee with a beautiful frame in a brownish tone with standard upholstery.
I also had the most exquisite Petit Point piece in my collection made by Rachel Breski. It was intended to be displayed as a wall hanging in my Peacock Park dollhouse.
After much thought, I made the brave decision to let this piece of Petit Point art be cut up and used to reupholster the settee.
After I gilded the settee, it travelled across the pond to Lisa Johnson-Richards (she also created "Rebecca" that is shown here with my settee in the photo). She upholstered my French settee with such fine precision. As the Petit Point itself.
An impeccable end result thanks to the talents of these two miniature artisans.
A treasured piece. How lucky am I?
I do believe that fine miniatures are all about the details.
'Till we meet again.
- Francois -